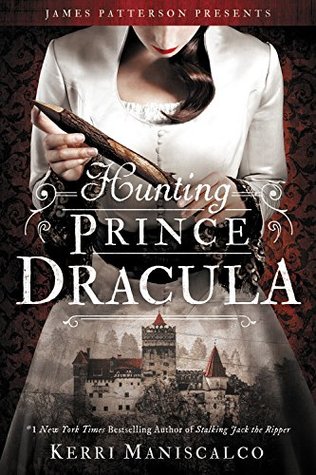 After the tragic events that occurred in London, Audrey Rose and Thomas have travelled to Romania to attend a prestigious medical school. Love is brewing, Audrey Rose and Thomas are finally able to learn together; but death has followed them everywhere. With bodies turning up drained of blood, Audrey Rose is wondering if the rumours are true: that Dracula has arisen from the dead… 
I. loved. this. book.
After ripping (heh) through Maniscalco's first book, Stalking Jack the Ripper, I knew that I was going to love this one. I wouldn't say that it is better than Jack, and although I think that I actually preferred that one, this certainly does not suffer from second book syndrome.
Why did I enjoy book 1 more? Well, I've been thinking about this for a while, and I think it's the excitement. Audrey Rose was suffering a great deal throughout this book, battling depression and grief, and I feel like she didn't have this weight in book 1. This is no criticism to the author, because it gave a different feel to the book and gave scope for so much character development. It just gave a very different tone to the book, but I liked this far darker version. I think I would like to reread both back to back and come back to this part of my review in the future!
So let's start with the plot. Whilst I guessed the murderer right at the beginning, I was actually left questioning my decision the entire way through, and that's what you need in a murder mystery novel. Maniscalco throws in so many red herrings and new ideas that you really are left guessing. She dug up an old myth, and I felt like it was really fascinating how she interweaves history and turns it into this incredible book.
The characters are, of course, brilliant. Audrey Rose and Thomas – ugh, can they just get married and have cute babies already?! I loved the diversity that Maniscalco managed to incorporate despite the time period it is in. I thought that Audrey Rose's reaction was quite appropriate too – I thought she might have been more shocked, considering lesbianism in the 1800s wasn't exactly able to be as open as it is nowadays, but she stayed completely true to her character in her response to it.
I think that's something I really like about Kerri Maniscalco's writing – her consistently. I find that some writers really exemplify their characters after they find what streaks readers enjoy, but she has managed to mingle character development and consistency throughout both of the novels.
I also liked how there wasn't a huge jump between books #1 and #2. I feel like, again, this can be a huge mistake some writers make, especially when it's a book following a debut, and also when lots of readers have had a lot of time between two books. I took a while to find my feet again in Hunting Prince Dracula, but I think that that's partly because it's been a year (??) since I read book 1.
Maniscalco set us up brilliantly for book 2, though. The setting was so delicious! I cannot explain how much I loved the setting for this book. It was chosen so well, and I feel like it really helped the book along and to be far more creepy than it could have been!
Overall, these are incredible books and I highly, highly recommend them. I zipped through both of them, and I cannot wait for book 3! I'm excited to see what mystery Maniscalco aims to write about next. I think that it's a really great concept for a book series – unsolved mysteries that are explored by a really plucky, strong female character.
Rating: 4.5/5
Goodreads
Source: bought from Wordery