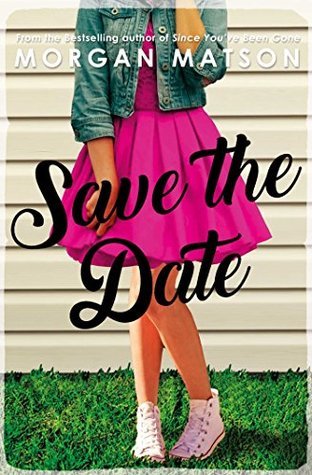 For Charlie Grant, this weekend is way more than just her big sister's wedding: it's the first time in years that she and her siblings will be under the same roof. Desperate for one last, perfect weekend before their house is sold, Charlie focuses on trying to save every problem that goes wrong. A neighbour bent on sabotage, an alarm that won't stop ringing, an unexpected dog turning up, the groom's missing tuxedo… and that's only the beginning. In one chaotic weekend, Charlie will learn more about her family than she thought, and realise that, sometimes, living in the past means missing out on the future. 
If I had to sum up this book in three words, it would be messy family fun. This book was just so enjoyable to read!
Watching everything go wrong in the wedding gave me a huge sense of Schedenfraude – it was both hideous and hilarious reading about everything going wrong all the time! I think that a wedding, where we all know that everything pulls together in the end, was the perfect set up for this huge, messy family.
Charlie is a teenager in her last summer before university – although she hasn't exactly decided where she wants to go yet. I related so much when she said that she wasn't really that bothered about university – don't get me wrong, I love where I am now, but if you'd told 16 year old me how happy I'd be, I would've laughed. I feel like I relate to Charlie so much! I also loved how fiercely protective she was of her family, but the thing I liked most was that, even though the book only takes place over three days (plus an epilogue), she had so much character development.
The "romance" wasn't really a romance, which I absolutely adored – normally in a book like this, the character would fall in love in a matter of days. But it was just so realistic! The guy was cute, and I think that Matson played it really well between the both of them.
I also loved how Matson had cameos from her other novels! I've only read The Unexpected Everything, and when one of the characters from there appeared in this book, I squealed a little! I LOVE books that exist in the same universe but are disconnected from one another, and it was so well done, so casual! If you me to go all literature degree reading on you, I would say how it shows that you are the protagonist in your own story, but only a background character in other people's etc. etc., but let's not get into that right now…!
Overall, I thoroughly enjoyed reading Save the Date and would definitely recommend it. I loved the characters, the location, and the plot, and although it was fun and lighthearted it was also realistic and dealt with actual real-world issues. I would love to pick up more of Morgan Matson's novels in the future!
Rating: 4.5/5
Goodreads
Source: bought from Waterstones
---
If you liked this, you might also enjoy… To All the Boys I've Loved Before by Jenny Han (film review)