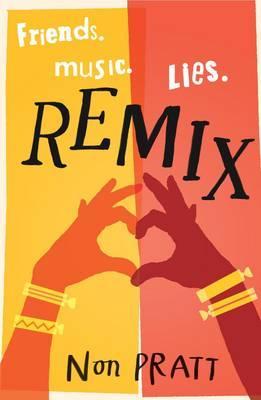 Best friends Ruby and Kaz have been looking forward to Remix for months. Kaz is still reeling from being dumped by the love of her life; Ruby is tired of hearing about it, and wants her friend back. Three days. Two friends. One festival. Zero chance of everything working out. 
I love being in the mood for contemporaries, and finding one that is just right for you. Because Remix was perfect for me, exactly when I wanted it.
First offs, I loved the characters. Ruby and Kaz had a dual narrative throughout the book, and I liked how it switched back and forth – sometimes, there was only one sentence of one of them before it went back to the other. It was so interesting reading about best friends who have started to keep secrets, because the reader has the knowledge behind both characters that they don't have of each other. I'm not always a fan of dual narrative books, but this was done so well. Each character had their own distinctive voice, and it was just written stunningly.
The plot was also really interesting. Throwing the characters together in an enclosed space like a music festival is always a way to get good dynamics going between them, and Non used this to her advantage. The festival felt so real!
There was so much going on in this story, and quite often that can be overwhelming, but Pratt balances it really well. Each character had their own relationships and troubles going on, and I thought that they all got an equitable amount of screen time; there was never really a moment when I wanted us to stop focusing on one character and move onto another. In this way, it felt very much like real life, as there was so much going on but it wasn't too much at all.
Three of my favourite characters were Lee, Owen, and Lauren, who were three side characters. Lee and Owen were in a relationship, which I thought was really interesting as Non wrote about the deterioration of the relationship, often not a plot that happens to secondary characters. And Lauren was a character I initially wanted to not like, because I am one who normally roots for the main character and she was a love rival for Kaz's love interest. But, she was such a lovely, likeable character, and out of all of them probably the character I a) related to the most, and b) would most like to be friends with!
Non chose to write about female friendship rather than romantic relationships, and I really appreciated it. I am a person who values strong friendships, and I thought that the dissection of Ruby and Kaz's friendship was a perfect focus point for this book. It was written really well, and is one that I think I'll keep coming back to when I want to try and explain how much I love my friends!
One of the main reasons I didn't give this book 5/5 is because there was a scene that I felt was very unbelievable. SPOILER PARAGRAPH Basically, Ruby sleeps with the main singer of her favourite band. As much as I liked this being a plot idea, and her realising the "you should never meet your idols" kinda thing, I just thought it was so unbelievable that to begin with I thought it wasn't actually going to be the lead singer! I get why it was put in… but just too far-fetched for me. END SPOILER PARAGRAPH
There's so much to talk about and unpick about this book that I might end up doing another review/blog post about it in the future, but it had everything I wanted: great, 3D characters, a great plot and setting, and a fantastic writing style. Non Pratt is an emerging writer, but definitely one to watch and I will be reading many more books of hers.
Rating: 4/5
Goodreads
Personal source: bought from YALC
---
If you liked this, you might also enjoy… The Manifesto on How to be Interesting by Holly Bourne