I can't actually believe it's been a week since I first started this readathon, and now it's all over! I have had such a great time, although I wish that I could've got more people reading. Hopefully, next time I'll give more notice and get more people to join in! Thank you so, so much to everyone who read, Tweeted, blogged, commented, and liked posts on both my blog and the readathon blog, I hope that you had a good time reading and celebrating the OGs.
I didn't post at all on Days 5 or 6 because I was a) very, very busy, and b) travelling! Anyway, with that said, I would love to catch up with the challenges I missed, beginning with Thor! This challenge was to suggest a mythological character you'd love to drop into the modern day. I think that I would really enjoy seeing Heracles brought back, as well as the gods themselves. I think it'd be really interesting to see what they would make about other religions and the modern world.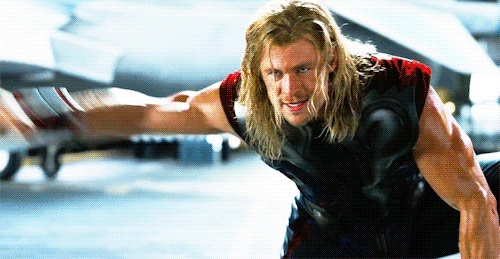 Day 6's challenge was based around my favourite boo, Hawkeye, and the challenge is to shout out a reading buddy who'd keep lip about Budapest! Of course, I have to tag my lovely reading buddy Natalie.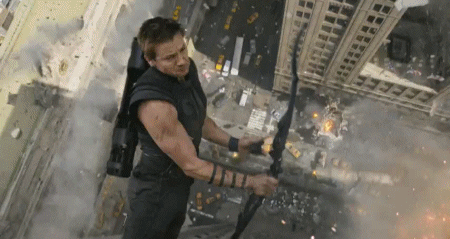 And day 7's challenge was inspired by all 6 of them: the Avengers themselves. This one was to say your favourite moment from the 2012 film, and I have to say that the battle of New York was my favourite scene, but if I had to break it down? It would be this moment (or, perhaps, the one with Hawkeye above where he jumps off the roof):
The slow-mo here that speeds up almost immediately afterwards just gives me shivers!
And now for what I spent literal hours on: the reading. I had 6 books on my TBR, and I managed to read… 5, and get partway through the 6th. Here they are in order of what I read, plus the page count.
Black Widow: The Bloody Chamber by Angela Carter, 4/5, 149 pages
Hawkeye: Hunted by Meagan Spooner, 4/5, 374 pages
Thor: Circe by Madeline Miller, 4.5/5, 352 pages
Hulk: Mythos by Stephen Fry, 5/5, 416 pages
Iron Man: Fahrenheit 451 by Ray Bradbury, 3.5/5, 172 pages
Captain America: The Winner's Curse by Marie Rutkoski, 244/384 pages
So overall, I read 1707 pages, which I think is pretty good going over the past week!
On Day 5, I didn't read anything, and on Day 6 I read whole of Mythos by Stephen Fry, which was very good by the way. I travelled home, which is why I didn't blog as I didn't really have the time – it takes me about 4 1/2 hours to get home from University!
I had such, such a great time hosting this readathon, as well as actually reading and doing all of the challenges. If you participated, I really hope you enjoyed it too! thank you so much for joining in!
I'm planning on holding the next readathon at the end of July, but make sure to keep up with the 'thon blog and Twitter for the dates and challenges of the next readathon. And yes, I'll stop spamming you with Marvel readathon stuff…. for now!
Until the next time, Hx