I've wanted to participate in Book Roast's Magical Readathon for the longest time, but I've always been too late to join! Not this time, however- finally, I can participate! I know this TBR is being posted on the day the readathon starts, but hey, what can I say apart from the fact I never really know what I'm doing until I'm doing it. 
The readathon has 6 challenges, with 5 book challenges and 1 film challenge. I'm super excited about this readathon because I love Harry Potter, and it looks so interesting! 
This is the map that you follow – you follow the footsteps basically, it's pretty self-explanatory, and complete all of the challenges. So, without further ado, here's my TBR: 
Finish your coursework – finish the book you're currently reading
I LOVE this challenge! I sometimes find it really hard to finish my book before a readathon starts, and sometimes I just don't read before it in case I'm still reading that book when the 'thon starts. For this challenge, I will be finishing Murder in the Snow by Gladys Mitchell.  
Help Hagrid decorate the trees – a book with golden detail
For this one, I have chosen Listen to the Moon by Michael Morpurgo who is one of my favourite authors. This book is pretty chunky, but it's also a children's book so I think it won't take me too long to get through. 
Visit the Three Broomsticks for mulled pixie wine – a read that should only take you a day/evening 
I read a lot of books in a day (500 pages? Got the t-shirt mate) but for this one I'm going to pick Spark by Alice Broadway, which is a sequel. It's been on my shelf for a while and I'd really like to read it soon. 
Attend a Yule Ball – a book you've been preparing yourself for
For this one, I'm picking one that I've been preparing myself for since September – Harry Potter and the Philosopher's Stone by JK Rowling. I really want to reread this series around Christmas, so this would be the perfect time to start my reread, and as a bonus it fits in with this readathon! 
Bring a festive treat to Hedwig at the Owlery – animal on the cover/title
And of course I have to continue my HP reread with Harry Potter and the Chamber of Secrets which, in my edition at least, features snakes on the cover at the entrance to the Chamber. 
Attend the Christmas feast – watch a Harry Potter movie
I've pretty much already decided that, for this challenge, I will be watching my favourite Harry Potter film – Harry Potter and the Prisoner of Azkaban. I'll hopefully be reading this book at the same time, having finished book 2, so it'll be perfect timing as well!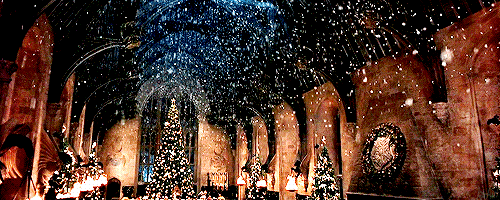 So here you have my TBR for this readathon! I'm so, so, so freakin' excited. I've been wanting to partake in the Magical Readathon for ages, and it's finally happening! I'm also so excited to read all of these books, especially Harry Potter. 
Are you participating in this readathon? If you'd like to keep updated, follow me on Twitter where I'll be doing an update thread throughout the week!